NEW PN-W05MAG Magnetic Wireless Power Bank 10,000mAh Solar Charger
Regular price
Sale price
$34.99 USD
Unit price
per
Sale
Sold out
Brand-Oriented & Outdoor Charger Pro: With over ten years experience of portable solar power banks, BLAVOR has already gained the favor and trust of over 27 million global users. BLAVOR only uses the highest-grade materials, to provide safe and reliable products to customers.

Magnetic Wireless Charger: No more alignment hassles, just place your phone in the wireless charging area and press the power button for efficient charging. Equipped with super-strong magnets, which snap your phone firmly in place so it does not drop off easily.

Fast Charging USB Port & Premium Battery: USB-A and bi-directional USB-C ports provide flawless compatibility, support charging for 3 devices simultaneously, and 50% faster-charging speed. The solar power bank contains a safer 10,000mAh Lithium-cobalt battery and powers your device all day.

Safe Material and Comfortable Design: The outer case is made from flame-retardant ABS+PC materials. The waterproof silicone better protects the internal structure of the charger. Rubber skin-feel oil coating process to form a protective film on the surface, comfortable touch, and exquisite appearance.

Multi-Purpose Outdoor Power Bank: BLAVOR portable solar charger is made IPX5 waterproof, dustproof and shockproof. The built-in dual super bright flashlight and the included compass carabiner would further secure your safety during outdoor travels, the ideal companion for outdoor enthusiasts.
About BLAVOR
· As the outdoor solar charger pro, we are brand-oriented. With over ten years of experience in portable power banks, BLAVOR has already gained the favor and trust of millions of global users.
· BLAVOR always bears in mind that quality makes the future in the internet age. To maintain high quality, we use only the highest-grade materials and safe premium high-density lithium-cobalt batteries.
One Snap to Charge: The strong magnetic connection holds your phone securely. Just snap your phone onto the power bank to seamlessly charge your device.
Perfectly Designed for iPhone: Works flawlessly with iPhone 14/13/12 Series, AirPods 3*, and AirPods Pro 2nd*.
Note: To ensure the magnetic suction function, it is recommended to use a Mag-safe charging case or use it without a phone case.
About BLAVOR PN-W05-MAG:
1. An Upgrade Version of PN-W05: Based on PN-W05, added a strong magnetic suction function that is suitable for all mag-safe devices. The wireless charging (ID:3533) is compatible with all Qi-enabled devices. NO messing cables, enjoy a hassle-free life.
2. Advanced USB C Input&Output: Flawlessly fit your new iPhone, iPad, and all upcoming USB C devices. The USB A to USB C cable is included, saving you the cost of getting an extra cable.
3. Light-Weight Real-Rated 10000mAh: The smallest solar charger on the market, effortlessly put it into any of your pockets or backpacks. It can power the dual flashlight for up to over 100 hours with a full charge.
Powerful magnets with 1500g of adsorption force
ensure your phone stays securely on the power bank
Newest advanced bidirectional USB C port
supports most new and upcoming devices.
BLAVOR solar charger has three outputs,
widely compatible with most smart devices.
A compass carabiner is included,
helps you easily hang the charger onto your backpack.
The power bank can be recharged by sunlight,
allowing you to have emergency power sources.
The dual super-bright flashlight
light up the dark night of your outdoor trip.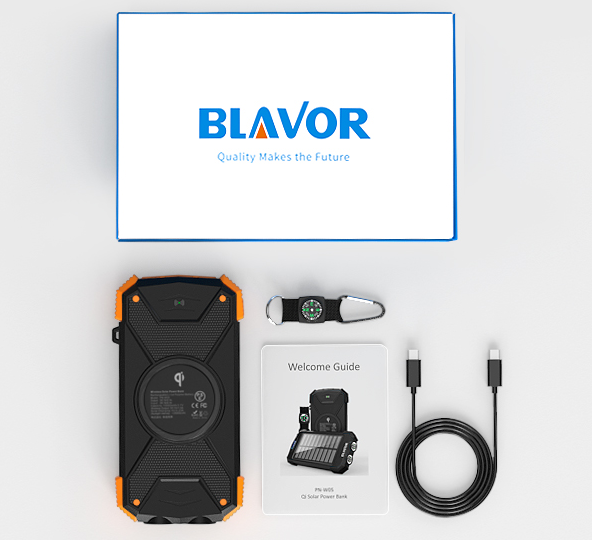 Package Contents: BLAVOR 10,000mAh Solar Charger*1, USB Type C Cable*1, Compass Carabiner*1, User Manual*1.
BLAVOR takes good care of all your potential worries, so you can rest assured with the purchase.
View full details